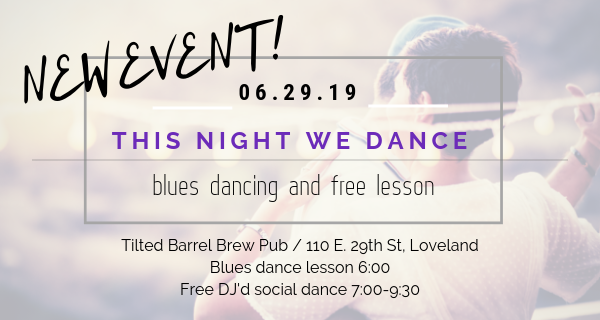 Beginning on June 29th, 2019 
6:00- Free one-hour intro to blues partner dance lesson 
7:00- Free social blues dance to a DJ'd dance-able blues and some alternative (but recognizable) music playlist. 
Location: The Tilted Barrel Brew Pub 110 E. 29th Street, Loveland 
Everyone is invited, dress is casual. Come to dance and socialize or simply watch. No dance experience is required. A partner is not necessary.  
The Titled Barrel Brew Pub is a one-year old Loveland brew pub and restaurant. Owned by long-time Loveland residents Tim and Sonja deBord, the brew pub is a friendly, family run neighborhood venue located in the former Loveland Island Grill space. A wide variety of beer taps are available and the pub-style menu is very good. 
What is Blues Dancing? 
Blues dancing has existed for almost as long as there has been Blues music, though it most likely looked different from what we see on the dance floor today. Blues dancing is a term used to describe a family of dances that have developed throughout the history of Blues music and the contemporary dances that are danced in a similar aesthetic.
   In the 1990's, when the Lindy Hop revival started, there began to be Lindy exchanges throughout the United States, at which there were often "Blues Rooms" where dancers could dance slowly to Blues and other mellow music. Blues soon started to become a scene in itself, with communities all over the United States and elsewhere in the world. 
Blues offers a unique kind of partner dance. It allows for improvised steps within a set of standard techniques, including a strong connection, tension and compression, turns, and traveling, among others. While Blues dancing can be a slow, intimate affair, it can also be a fast paced rush around the floor.
   It can be danced to Blues music, and often is, and can also be danced to many other kinds of music (often referred to as "alternative Blues"). 
It also lends itself to be fused with almost any other kind of partner dance. 
~Crossroads Blues Fusion